Cardboard baler or Cardboard compactor
Discover the benefits of a cardboard baler, which can enhance your daily workflow while also contributing to your sustainability objectives.
Cardboard balers from Mil-tek
For several convincing reasons, Mil-tek is a market leader in the sale and rental of cardboard balers. We focus on providing superior and cutting-edge balers that effectively compress cardboard, plastic, and other waste materials, lowering their bulk and enhancing storage and transportation. The durability, dependability, and ease of use of Mil-tek's balers make them a popular option for companies of all sizes.
Additionally, at Mil-tek, we deliver first-rate customer service, guaranteeing that clients always get fast assistance and maintenance services. Another significant part of our dedication to sustainability is the fact that our balers support recycling and waste reduction, in line with the expanding environmental concerns of businesses around the world. Mil-tek has become a reputable industry leader in the cardboard baler market thanks to its well-proven technology, Lean approach to waste processing, and commitment to sustainability.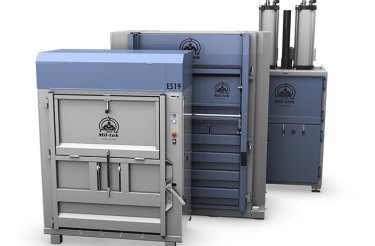 Cardboard balers from Mil-tek come in a variety of styles that are ideal for your compacting requirements
Learn more about some of our cardboard balers below, or browse all our cardboard balers and compactors. We have one of the broadest product lineups on the market, with a range of sizes and energy sources.
Cardboard balers – pneumatic
The pneumatic cardboard baler series, which uses only compressed air as power, is a very effective option. With the help of the unique EcoDrive valves, the cardboard is kept under continuous pressure without the need for additional energy. Because these cardboard balers employ pneumatic technology instead of hydraulic oil, there is no chance of contamination or oil spillage.
Cardboard balers – electric
Very low height and strong pressing force are two features of our electrical line of cardboard balers. The electrical series is free of hydraulic oil, similar to the pneumatic balers, and a "stay and hold" feature makes sure that the material remains under pressure to obtain the best compaction.
Cardboard balers – hydraulic
A hydraulic solution can be the best option if you're looking for a very powerful cardboard baler. The enormous machines can process a lot of cardboard, and some of them produce compressed cardboard bales that are ready for recycling that are mill size.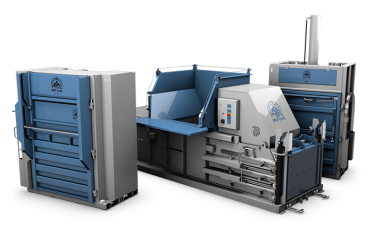 Any questions about cardboard balers?
Let us help you to find the answers to how your business can save time, space and money by handling your waste more efficiently.
Fill out the form and one of our local representatives will reach out to help.
Cardboard baler advantages
Containers for cardboard waste are often "filled" with a large amount of air because the cardboard is not properly compressed.
Install a cardboard baler and see the following changes immediately:
If the cardboard baler is located where the cardboard waste is generated, you can fill the cardboard directly into the baler, which will save you a ton of time on waste management.
Cardboard boxes don't need to be manually folded because they can just be placed in the cardboard baler as is.
No longer neccesary to bring cardboard outside in a container on a daily basis – saves a lot of time!
Stop paying for collection of air! Instead, the compacted cardboard bales can become a valuable commodity.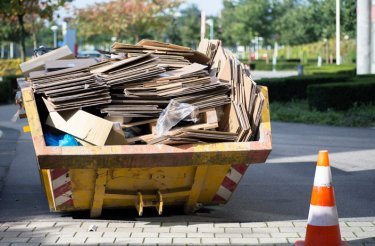 Save space and money with a cardboard baler
With the cardboard waste stored inside the cardboard press, rather than on the floor, you will first of all save a lot of space and have a tidier working environment. At the same time, you make the cardboard ready for recycling by pressing it into bales, and therefore also optimize your environmental considerations.
Another benefit of a cardboard baler is that it will save you money and possibly even contribute as a source of income; Rather than paying to have cardboard waste collected regularly, as many companies do, waste collectors will be happy to collect recyclable materials such as cardboard that is already compressed into bales. The cardboard is collected either free of charge, so you save money on regular collection, or even for a fee if large quantities of cardboard are involved. With a cardboard baler, your cardboard waste can thus become a resource rather than an expense.
Hydraulic, electric or pneumatic cardboard baler?
A pneumatic cardboard baler will fit into many kinds of businesses. But if your company generates very large quantities of cardboard or very heavy cardboard, you will benefit from an electric cardboard baler. or hydraulic cardboard baler.
These models press with stronger force, up to 60 tonnes, and can therefore handle this. At the same time, these machine types have large door openings, which easily accept both a steady stream of cardboard waste and large pieces of cardboard packaging.
Among other things, we have helped danish Creativ Company to automate their handling of cardboard waste with a hydraulic cardboard press – read the case with Creativ Company here.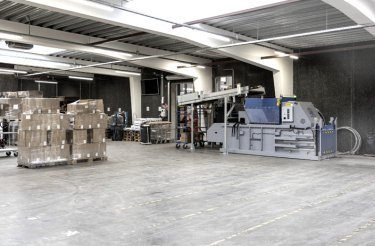 Can everyone use a cardboard baler?
Yes! It is quite simple to operate a Mil-tek cardboard baler, and all employees, regardless of background and function, can figure it out.
You just have to put the cardboard in the opening, close the door, pull the handle and let the machine do the work
When the baler is full, bands are applied manually and then the compressed bale is removed
If it is a larger machine, there is automatic removal of the bale, which is tipped out and fits directly onto a standard pallet
Easy-to-understand, animated user instructions are always included with all our cardboard balers, so that even new employees can quickly learn to operate them. In addition, Mil-tek's balers for cardboard are always safety optimized with the latest certifications.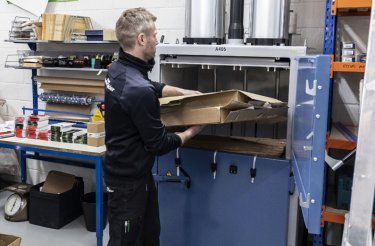 Cardboard balers for compacting cardboard AND plastic
In addition to cardboard, does your company also have plastic waste? In that case, you only need to acquire one machine to manage the waste; You can compress plastic in your cardboard baler as long as the materials are compressed separately.
Do you need a small cardboard baler or a large cardboard baler? Our machines are available in all sizes, so that all kinds of cardboard quantities can be handled. The compressed bales naturally weigh differently depending on the machine model. For example, our small cardboard balers produce bales of up to 40 kg cardboard, while our large cardboard balers produce bales of up to 450 kg cardboard.
If your amount of cardboard is limited, a mini cardboard baler like the A102 is probably suitable. For larger production companies that produce large amounts of packaging waste, an industrial cardboard press such as the A509 would be a good choice.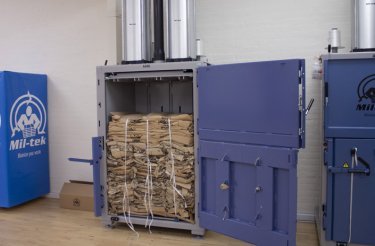 Price of a cardboard baling machine?
How much does a cardboard baler cost..? It obviously depends on which machine best suits your company and your needs.
Do not hesitate to contact us if you want to know more about Mil-tek's cardboard balers. We are also happy to carry out a no-obligation waste check in your company and present you with a concrete solution.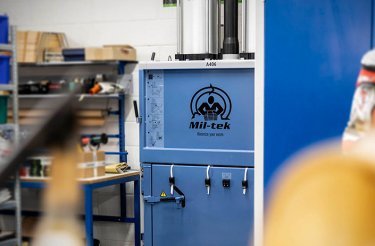 Cardboard baler questions?
We're ready to help!
Fill out the form and one of our local representatives will reach out to help.