Plastic balers
A plastic baler, also called a plastic compactor, uses electric, pneumatic or hydraulic systems to compact plastic material to manageable plastic bales.
Plastic baler machines manage your plastic waste
A plastic baler compresses plastic waste into compact bales, making it easier for businesses to store and dispose of unwanted materials. They can process all types of plastic waste, including LDPE and HDPE plastics. For companies that produce plastic waste regularly, a plastic baler is a practical and efficient option that can reduce waste management costs by requiring less frequent waste collection services.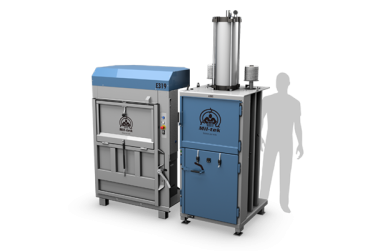 Plastic balers – pneumatic
There is a lot of air in plastic waste, and it has a "memory"; if it is compressed and then released, it will return to its former state until pressure is applied repeatedly for a long time. In a Mil-tek plastic baler, the unique pneumatic EcoDrive enables the machine to maintain the material under constant pressure without requiring additional energy, a technology that eventually aids in reducing the memory in the material. A pneumatic plastic compactor is also oil-free, quick, and space-saving.
Plastic balers – electric
Businesses that deal with plastic waste can benefit significantly from electric plastic balers in a number of ways. Electric plastic balers are suitable for firms with low ceilings because they are normally lower. They may be quickly installed in locations with limited space and easily incorporated into current waste management systems.
Electric plastic balers frequently have safety measures like emergency stop buttons and safety guards installed, which lowers the chance of accidents while in use. Electric plastic balers offer a variety of advantages, including higher productivity, comfort, space savings, improved safety, and environmental friendliness.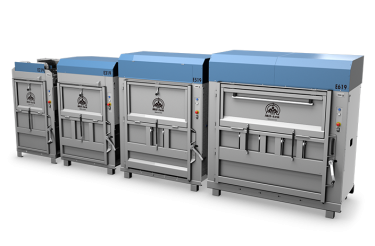 Plastic balers – hydraulic
Baling machines that use hydraulics provide a number of noteworthy advantages. The strong compression force of hydraulic plastic balers, which enables effective and compact baling of plastic, is one of its main advantages. The compact, homogenous bales produced by this compression force are simple to handle, store, and move.
Baling machines that utilise hydraulics are well recognized for their continuous, heavy-duty use. They are suitable for businesses with high production or plastic waste creation rates since they can handle big volumes of waste.
High compression force, durability, adaptability, automation, reduced waste volume, and environmental sustainability are all advantages of hydraulic baling machines.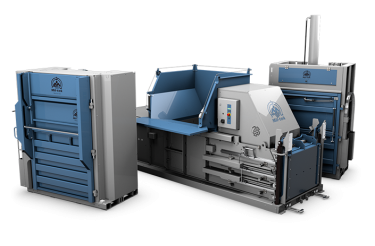 Questions about Mil-tek plastic balers?
Let us help you to find the answers to how your business can save time, space and money by handling your waste more efficiently.