Hospitals, not just clinical and contaminated waste
Hospital waste management is a major issue that requires attention and action. Hospital waste management is not just about being environmentally conscious, it is about doing the right thing for patients and the planet.
Hospital waste is a major concern for both the environment and sustainability. With 7% of carbon emissions being contributed by medical waste, it is the second largest contributor after the food industry. However, the lack of understanding and education about what constitutes as clinical or contaminated waste is a major barrier in finding a local solution. This leads to hospital waste being sent to landfill, which is not only a waste of resources but also contributes to the ill health of patients by contributing to environmental issues like asthma, fires, floods, and illnesses.
Video: Gosford Private hospital
Rethinking waste management has many benefits, watch the video and learn more about how hospitals can improve.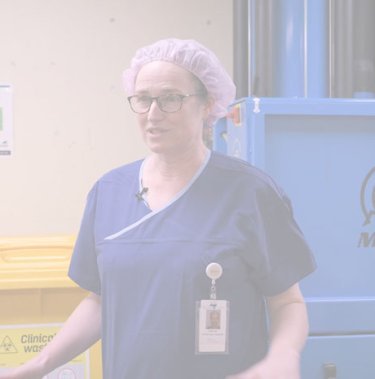 Hospital waste solutions
One solution that can help hospitals is to communicate and work together to find a solution. This involves looking beyond just sending waste to the local tip, and instead looking at the impact of transport and the processing of waste. Hospitals must understand where the waste is going and what it is being made into. This can be done by working with companies like Mil-tek, who can provide answers and help hospitals make informed decisions about their waste management.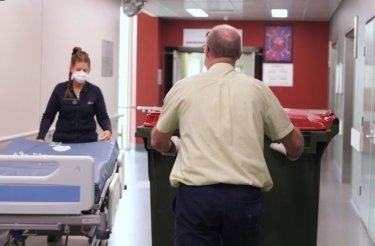 Baling it instead of bins
Another solution is to minimize waste by baling it instead of using cardboard bins. Baling allows for more waste to be stored in one place and can be removed for minimal cost or for free, which can help to save hospitals money. This money can then be used to invest in sustainability efforts.
Video: Supply chain and waste management
The training facility at the heart of this interview has a bold vision to become carbon and waste neutral by 2030. With a focus on patient care and the creation of healthy people and a healthy place, sustainability is a key part of their core business. The facility is taking a two-pronged approach to sustainability, looking at both supply chain procurement and waste management.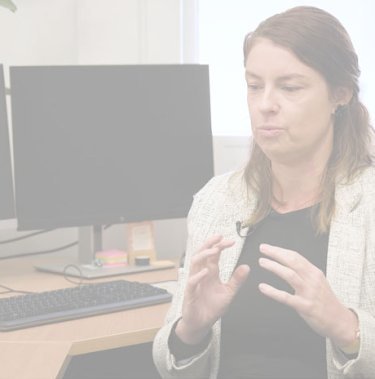 Sustainability journey
Working with equipment suppliers, such as Mil-tek, has been vital in the decision-making process and in future-proofing the sustainability journey. The facility is starting with the "low hanging fruit" opportunities, such as the recycling of their Kimguard sterile wrap. With 20 tons of this material produced from just one facility, waste management has been a major challenge. The facility is now bailing the Kimguard into smaller, more manageable quantities for transport.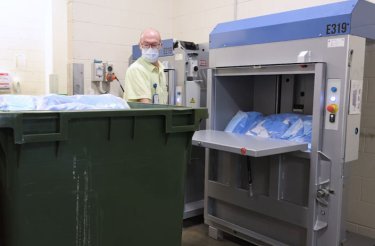 Life cycle and recycling efforts
In addition, to recycling Kimguard, the facility is diverting 100,000 baby bottles and capturing hard plastics and metals from their theaters. The goal is to create a movement within the healthcare space, leading the way in sustainability and engagement. The facility is looking at the complete life cycle of its recycling efforts, with the aim of bringing back recycled goods into the hospital setting in the form of new park benches and floor tiles. The facility has a long way to go before reaching the end goal, but they are confident in their journey.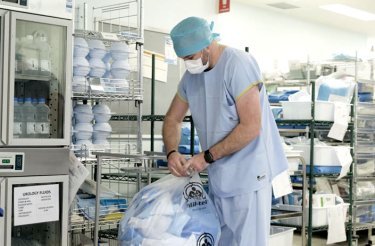 Do you have more questions?
Let us help you to find the answers to how your business can save time, space and money by handling your waste more efficiently.
Fill out the form and one of our local representatives will reach out to help.